Last call for Grand Ball and Banquet
The deadline is fast approaching for getting tickets for the annual Grand Ball and Banquet which will once again be held at the Premier Suite, Macron Stadium, Bolton on Friday 16 March 2019.  Applications MUST be received by 15 February.  After this date, availability may be restricted, the price will increase to £46 pp and seating within your own Group cannot be guaranteed.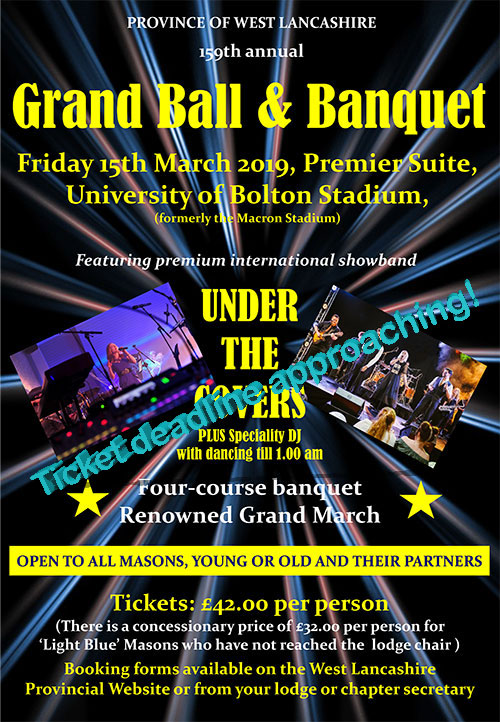 This popular and prestigious Provincial event will be the 159th occasion on which West Lancashire has welcomed all its members and their partners to a spectacular evening of food and entertainment.
A fabulous four-course menu will once again be presented by celebrity chef, Paul Heathcote MBE and his staff. Following the sumptuous banquet, a great night of entertainment and dancing will be provided by one of the North West's top showbands, 'Under the Covers'. In addition, a speciality DJ will be on hand to ensure the fun continues into the early hours.
As always, the immensely popular and traditional 'Grand March' will take pride of place at the start of the evening's entertainment. Many will recall that it was a major feature in the Sky TV programme 'Inside the Freemasons'. Another very popular tradition will again be observed, with all brethren and companions attending being asked to wear full Masonic regalia for the reception and dinner.
The event is open to ALL Masons, young or not so young, of every rank. For those 'light blue' Masons who have not yet attained the chair of their lodge, concessionary tickets for themselves and their partners are available. A copy of the application form for concessionary tickets can be downloaded here.
Demand for tickets is always very high and the organisers encourage you to book early to avoid disappointment. Late bookings will attract an additional administration charge. A copy of the letter that has been circulated to lodges and chapters can be viewed here.
The closing date for ticket applications is: Friday 15 February 2019
The application form for Craft lodge bookings can be downloaded here.
The application form for Royal Arch chapter bookings can be downloaded here.
The booking forms can be downloaded in an alternative format i.e pdf by following these links:
Craft      Light Blue concession       Royal Arch
Late availability of accommodation should be checked directly with Bolton Whites Hotel on: 0844 2482345, opt 2.